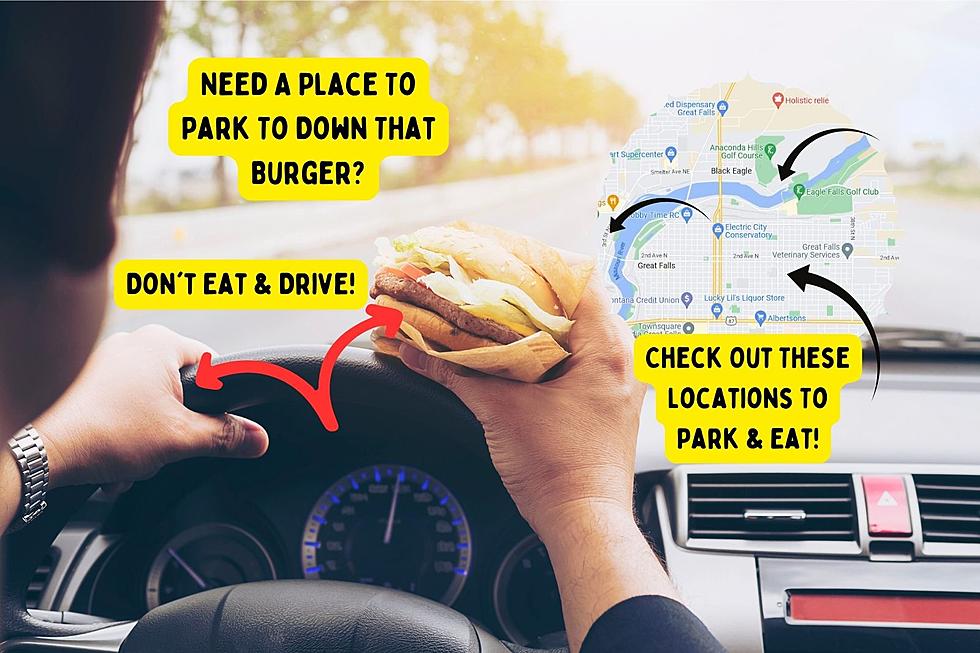 Cool Places To Catch A Bite In Your Car In Great Falls
Canva/Google Maps/JD Graphix
It's probably happened to you not just once, but perhaps several times.  You get behind at work, take that lunch, but you won't have time to sit down and actually enjoy it!  Instead, you hit the drive thru and try to eat and drive your way back to the grind at the office or job site.  Don't do it!  It's dangerous to eat and drive!  You could be hitting one of the great spots in Great Falls that you can woof down that burger in your vehicle instead!
We Have So Many Parks To Choose From!  But What About Other Spots?
There is definitely no lack of finding a beautiful area to lean the seat back and prepare to drop french fries between your seat and the center console.  Oftentimes though, some of those parks are a little tucked in to areas that may be a little more "out of the way" than you want.  In putting together our list, we stopped by the most accessible areas from the main streets that cross the Falls.  You should be able to get in and out of these with no problem, regardless of the time of day, even if it is the rush hour.
Time To Get Grease On The Wheel & Taco Sauce On The Seat!
Well, now that you have decided where to eat, you've made it through the line at the drive, let's see where you can head in Great Falls to finish up your lunch at.  Where is your favorite place to grab lunch in your vehicle?  Hit us up on our socials to comment, or you can email me here.  Bon appetite!
Where To Stop & Eat Your Lunch In Great Falls Without Ever Getting Out Of Your Car!
If you had to stop and grab a quick lunch, where can you stop and enjoy it? Check out these locations across Great Falls to dip your fries or get after your tacos!
You Have The Location To Eat, But Where To Get The Food?
Not only did we put together great places to enjoy your food, we have the locations across Great Falls to get the best deals for the lunch hour!  Check out the gallery below to see what you told us were the most amazing!
Where's the best place for a good cheap lunch in Great Falls?
We asked "where you would go for lunch if you had $15 in your pocket?" These are the top 15 responses for the best place for a good cheap lunch in Great Falls.
More From 94.5 Max Country