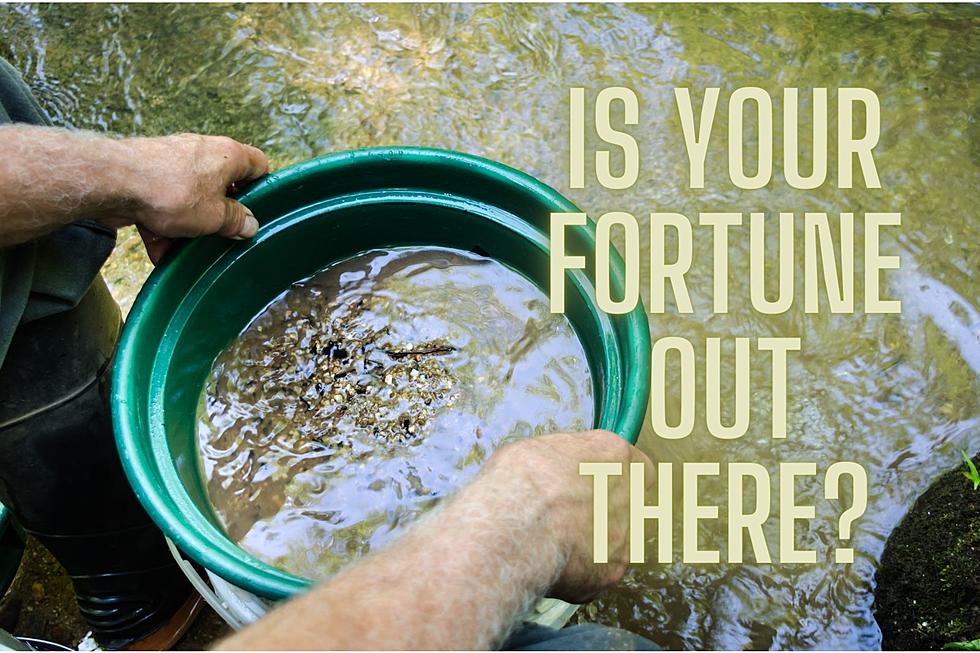 These 7 Rivers in Montana Could Be Hiding Your Fortune
Canva/JD Graphix
These 7 Rivers in Montana Could Be Hiding Your Fortune
Gold.  Gold fever.  Gold rushes.  Words that are easily used to describe Montana in the middle of the 1800's.  Mining for gold in Montana goes all the way back to 1850, with much of the deposits being mined by hand.  Once the advent of the bucket dredge came to be, there was even more being taken out of the rivers, streams and mountains across the state.
Have you ever considered heading out and trying to find your fortune with gold in them there hills?
Have You Ever Panned for Gold in the Streams and Rivers of Montana?
There are ample opportunities for panning gold in Montana.  It really is the where to pan that is the important thing.  Nobody wants to spend the day working to have nothing to show for it at the end.
Check It Out! How To Pan For Gold In Montana
If you are ready to head out to find your fortune, have all your equipment and tools and a handy GPS unit to keep track of locations, let's send you to the 7 best places in Montana to find that treasure.
Hit The Road and Shorelines to Find Those Flakes of Joy
Which are the best rivers to find that fortune?  According to Rare Gold Nuggets online, these are the 7 best rivers to test out for panning across Montana.
Missouri River - Placer gold is often found just down from Cascade, Montana.  Most of this is contributed through several smaller tributaries, including Prickly Pear Creek.
Big Hole River - It's thought that nearly $5,000,000 worth of gold was taken from this river in just the first few years of it being worked, starting in 1864.  There are 6 tributaries that flow into the Big Horn, each with placer amounts in them.
Boulder River - While this river was mined extensively in the early gold mining era, there are still several deposits of placer gold to be found here.
Blackfoot River - Many quality placer gold deposits can be found in the tributaries that feed the upper Little Blackfoot River. Some of the richest include Beaver Creek, Carpenter Creek, Ontario Creek, Gold Canyon Creek, Telegraph Creek, Snowshoe Creek, Ophir Creek, Threemile Creek, and Little Blackfoot River itself.
Yaak River - While initially this river didn't produce as well as others, it has since become much more viable for panning.  You'll also find smaller tributaries of Yaak River along the way up the mountain. Most of the land is national forest that is open to prospecting, and there is gold in many of these creeks.
Clark Fork River - With nearly 100,000 ounces of gold prospected from it and its tributaries by 1954, the Clark Fork offers you opportunity to find those riches still today.
Bitterroot River - Hughes Creek is a tributary that feeds gold into the Bitterroot River in Ravalli County. It accounted for 88% of the county's placer gold from 1904-1948.As with many rivers in Western Montana, panning along gravel bars will produce some fine gold.
WATCH: Explorer Discovers Gold Vein Near Old Colorado Mine
WARNING: Under no circumstances should you enter this property. By doing so you risk bodily harm and/or prosecution for trespassing on private property.
An experienced explorer discovered what he believes to be a gold vein near an old mine in Colorado.
Gallery Credit: Nate Wilde
Photos: See Inside the Old Hundred Gold Mine in Silverton, Colorado
See inside the Old Hundred Gold Mine just outside of Silverton, Colorado. Tours of the Old Hundred mine are available from 10 a.m. to 4 p.m. on weekdays during the summer months. Visitors can pan for gold while waiting to ride the train into the mountain to see inside the mine and take photos.
Gallery Credit: Wes Adams
More From 94.5 Max Country