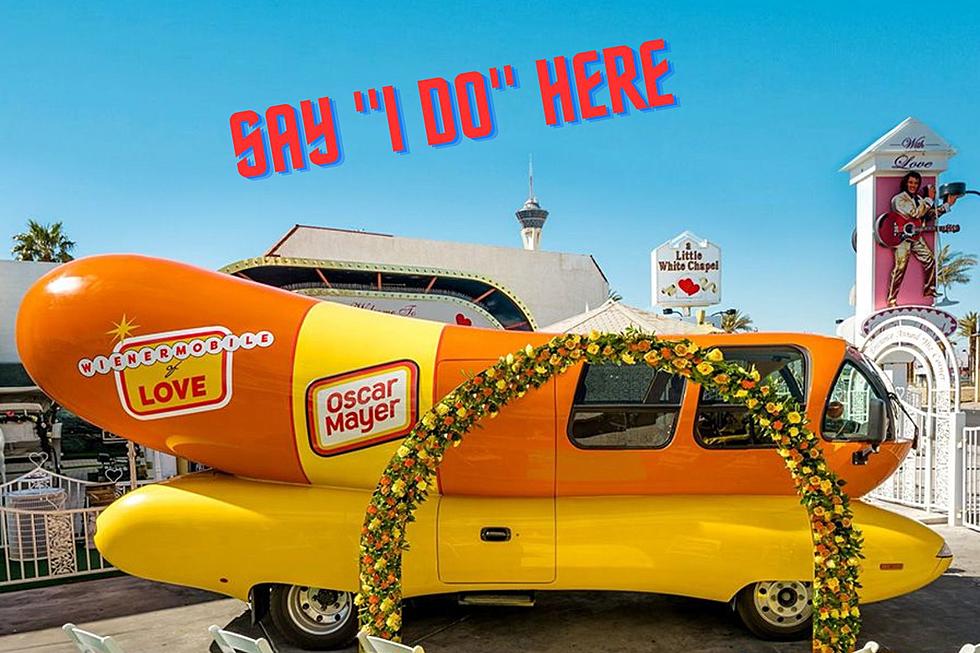 It's The Wienermobile of Love with an Oscar Mayer Themed Wedding!
Photo Credit: Oscar Mayer
Wedding season is here. According to wedding planning platform Zola, the average cost of a wedding in 2023 is expected to be $29,000. That is a ton of money. I guess you pay the price for your dream wedding.
But what about having a unique wedding. Something to talk about for years to come. You can! And this wedding will not break the bank. A wedding that will bring the kid out in you and have you singing the Oscar Mayer Wiener Song.  Grab your wiener whistle and head to Vegas this weekend.
It's the "Wienermobile of Love" and it is happening this weekend, in Vegas.
You can book your 30 minute spot online or join the waitlist if demand is too high. You also need to come with a valid Las Vegas wedding license.  Get registered here.
No charge. Oscar Mayer will pick up the tab. They will provide a photographer and even have "hotdoggers" to serve as your witness.  Maybe have "Little Smokies" as the Flower Girl and Ring Bearer.
Maybe I am the only one who is thinking this but this seems like a once in a lifetime opportunity.  Your future children will want to hear the story over and over about how Mom and Dad said their I Do's with the "Wienermobile of Love".
If you are interested in this once in a lifetime opportunity and want to tie the knot in Hot Dog Heaven, Vegas is your destination this weekend.
In case you forgot the lyrics, here is the Oscar Mayer Wiener Jingle for you.
7 Celebrity Weddings in Montana
There are plenty of celebrities who have visited Montana recently, and sure, there are lists of celebrities who have made their home here, but what about the celebrities who plan their special day in the Big Sky State? Here's a list of celebrity weddings that occurred in Montana, as well as one we're not sure about, and one that had to change locations.
More From 94.5 Max Country