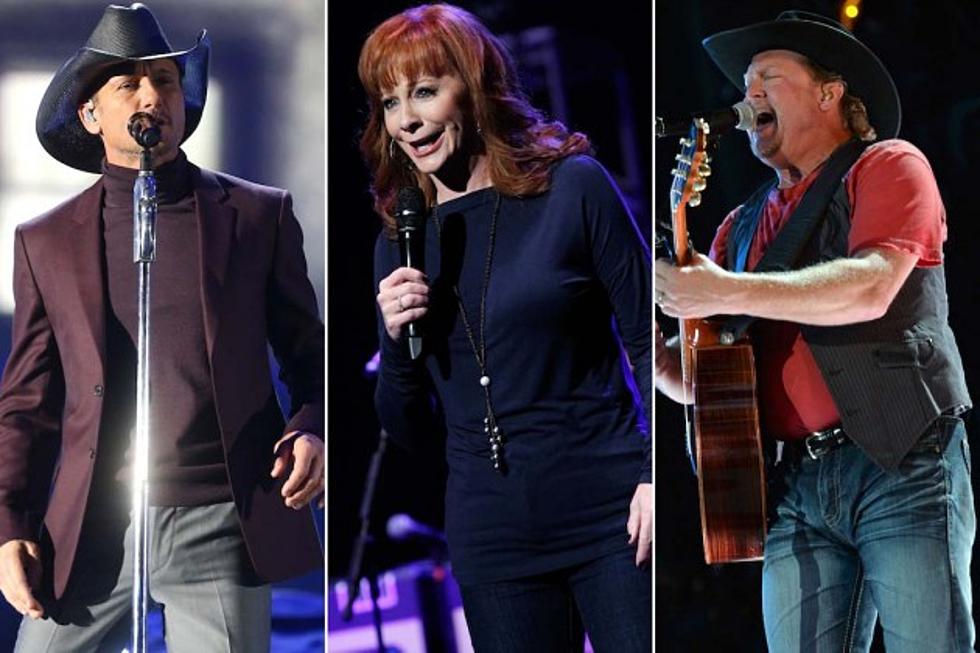 Top 10 Best Friend Songs in Country Music
Frederick M. Brown / Terry Wyatt / Rick Diamond, Getty Images
Luke Bryan and Jason Aldean, Dolly Parton and Kenny Rogers, Tim McGraw and Kenny Chesney, Jamey Johnson and Randy Houser -- the country music world has a lot of BFFs. No wonder the genre has so many great best friend songs.
It only makes sense: After all, it's our buddies who are there for us to help us get over the lyin', cheatin', cold-dead-beatin' exes country artists also love to sing about! And so, below, The Boot counts down country music's greatest songs about friendship:
10

Fuzzy Friendship Phrase: "Pull up a seat, take a load off your feet / Come on over."

Twain's motto for all of her friends: The door is always open. The clever lyrics and simple melody of this number are as comforting as fried chicken and mashed potatoes.

9

Fuzzy Friendship Phrase: "You're my sunshine, day and night / Oh, what a difference you've made in my life."

Milsap's lyrics give us a way of thanking our friends for their companionship without over-complicating things. After all, who doesn't want to hear that they're someone's "sunshine"?

8

Fuzzy Friendship Phrase: "That kind of therapy money can't buy / Every now and then, every now and then / Every girl needs a good friend and a glass of wine"

Sometimes all we need after a bad day is to have good conversation with a friend (and a tall pour of vino doesn't hurt, either!). Rimes' song reminds us to take a moment to relax with those closest to us every so often.

7

'You Can't Make Old Friends'

Dolly Parton and Kenny Rogers

Fuzzy Friendship Phrase: "What will I do when you are gone? / Who's gonna tell me the truth? / Who's gonna finish the stories I start / The way you always do?"

Parton and Rogers teamed up for an incredibly touching song about the rare treasure of old friends -- the ones who have been there through thick and thin for years and years and are irreplaceable. The song poignantly states that when Saint Peter opens the gate to heaven, "I will be there just waiting for you."

6

Fuzzy Friendship Phrase: "It's a brother and a sister kinda thang / Raise up your hands if you all wanna hang with / Me and my gang."

Who wouldn't want to party with Rascal Flatts? This anthem is the perfect pump-up song for a group of best buds heading out for a night on the town.

4

Fuzzy Friendship Phrase: "The love and the laughter / Will live long after / All of the sadness and the tears."

Lovers may come and go, but friendship is forever ... even after death. In this tune, McGraw makes a tearful tribute to a pal who's passed on to another life, reminding us at the same time to not take for granted our friends who are still with us in this life.

3

Fuzzy Friendship Phrase: "I'll be your shoulder when you need someone to lean on / Be your shelter / When you need someone to see you through."

Ask anyone who knows the Queen of Country, and they'll probably tell you she's also the Queen of Nice. With McEntire, you're never alone; she's always waiting with a kind word and an open door.

2

Fuzzy Friendship Phrase: "'Cause I got friends in low places / Where the whiskey drowns / And the beer chases my blues away."

Brooks' raucous ode to cheap suds and good times shows us that the best memories come from the simple times we spend with good friends ... and good booze.

1

Fuzzy Friendship Phrase: "Never stop to think 'What's in it for me?' or 'It's way too far' / They just show on up with their big old heart."

This CMA-winning collaboration between Lawrence, Chesney and McGraw shows us that the meaning of true friendship is being there through thick and thin. No fair-weather friends allowed!
More From 94.5 Max Country